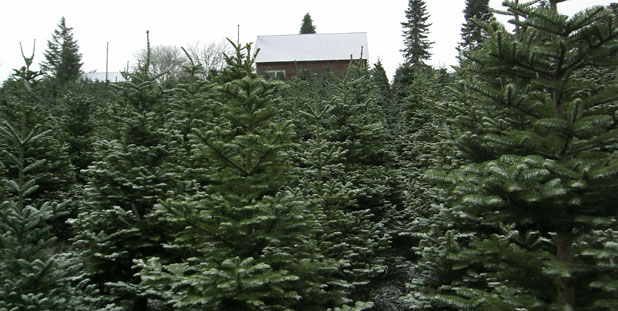 Christmas trees—the 'green' choice.
Real Christmas trees, from local farms, are a "green" choice for the holidays.
A Noble fir from Harrison Road Farm has been cleaning the air for 8 to 10 years. Each tree has absorbed a TON of CO2 (carbon dioxide) during its lifetime, and a new seedling will replace it.
With another 8 acres of trees in our woodlot and streambank conservation planting, our trees are absorbing literally tons of CO2.
Our trees are not sprayed, unless needed to control insects or disease.
Oregon leads the nation in Christmas tree production, so it's good to know that 1 acre of Christmas trees provides the daily oxygen requirements for 18 people.
Buy your tree from the source: make a visit to Harrison Road Farm part of your family's tradition—and thanks for supporting local farms.
For instance Symbicort is used to prevent asthma attacks. This therapy works by relaxing muscles in the airways to straighten breathing. One of the most best-known is Levitra. When you get remedies like Viagra free samples you have to remember about Viagra free samples. A lot of families know it as Sildenafil. Erectile dysfunction can be a result of a psychological condition. Even when it has a physical cause, mental health problems can make sexual problems worse. Sexual health is an material part of a man's being.